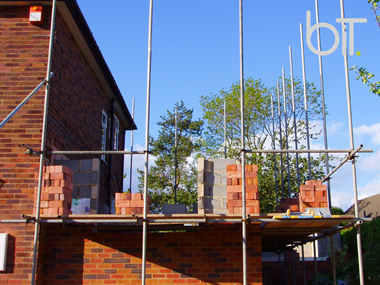 Three Key Projects Without Planning Permission
If you have ambitious plans for your home, there are some relatively major changes you can take without needing to secure planning permission.
House Extension:
If, to improve, not move is your mantra, a single or two-storey extension can be built without planning permission in many cases.
There are restrictions on the size of any extensions and it is best to check first that your plans meet the criteria.
A single storey extension can be added to the rear of your home of up to 4 metres in height and limited up to 4 metres on a detached property, and 3 metres on any semi-detached or terrace property. You can also increase the width of your house by 50% through a side extension but limited to 4 metres in height.
If you want to build a two-storey addition to your home, you can do so without planning permission if it's at the back of your house. That applies to adding a second storey on top of an existing single storey part of the house. A two-storey extension cannot be more than 3 metres in depth or within 7 metres of any boundary. Any first windows within a side elevation have to have specific glazing in them and may need to be non-opening.
Any work done within your extension will need to satisfy Building Regulations, this includes electrics, doors and windows, walls, roofing or kitchens and bathrooms.
If you live in a semi-detached or terraced home, you must let your adjoining neighbours know what you're planning under the Party Wall Act.
Loft Conversion:
If you're looking to take advantage of the unused space in your loft and convert it into living space, you don't usually need planning permission.
Loft conversions can be carried out under Permitted Development Rights.
If your conversion requires the installation of roof lights, they must not protrude more than 0.15 metres beyond the plane of the roof slope.
If you are enlarging the roof space (including the installation of dormer windows) you are restricted in the amount of additional space you can create – 40 cu. metres for terraced houses and 50 cubic metres for semis and detached properties.
If the dormer is on the principal elevation of the dwelling, and fronts a road or footpath, planning permission will be required.
You can't allow your loft conversion to be any higher that the highest part of the existing roof or install a veranda, balcony or raised platform under Permitted Development. Different rules apply if you live in a designated area like a conservation zone. And if you're unsure, contact your Local Planning Authority.
Internal Works:
If watching Channel 4's Location, Location, Location's Kirstie Allsopp has inspired you to take a sledgehammer to a dividing wall, you may be able to do so – just check that it is not a structural wall that is holding your house up first.
With the trend for open plan living, a large kitchen diner or kitchen family room can offer you more flexible living and make your property more saleable if you decide to move on.
You can also move doors and install new windows but if you live in a conservation or other protected area, check first in case you need to comply with other regulations. If you are installing new first floor windows on a side elevation, they will need to be obscure glazed and may have to be non-opening.
Don't forget, biT has a range of specialists who can advise on anything from residential planning permissions and building regulations to environmental issues, highways and master planning. For more information about how biT can help your building project please call us on 01952 380 039 or e-mail contact@bit-group.co.uk