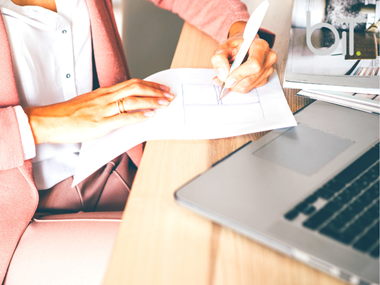 Running a Business or Working from Home?
Are you currently running a business or working from home? Or thinking about it? If so read about how you can make the most of your home and avoid breaching planning regulations.
With the explosion of digital technology more and more people are choosing to ditch the 9am-5pm office in favour of working from home. There's now estimated to be a significant proportion of people working from home in the UK as a result of Covid and that figure is likely to remain high as our working pattern changes and as we aim to get that work-life balance right.
If you're joining the ranks of the home workers and have set up your office in an existing room of your house, you won't need planning permission.
If you have decided to build a garden room or convert an existing outbuilding into your own personal workspace, you may be able to do this within Permitted Development Rights.
In respect of building regulations, as long as the floor area of your home office is less than 15 square metres and isn't used for sleeping, you don't need to comply with building regulations. Any glazing or electrical installations must comply with the necessary building regulations so make sure any professionals you use have the correct certification. 
If you need to do other changes to your home to accommodate your business such as an extension or remodelling, you'll need to check whether that can be done under Permitted Development rights or whether you need to obtain planning permission.
If you are thinking of building a new outbuilding within the curtilage of your home, unless the following apply you will need to apply for planning permission:
The total area of ground covered by your home, outbuildings or structures within the curtilage. They cannot take up more than 50% of the total area of the curtilage;


The outbuilding must not be built on land which is in front of the front facing wall of your home and should be single storey only;


Your outbuilding cannot be higher than 2.5 metres if it is located within 2 metres of any boundary;


If your outbuilding is to be built more than 2 metres away from any boundary, then the height of the outbuilding must not be higher than 4 metres in the case of a building with a pitched roof or 3 metres in any other case;


2.5 metres is the maximum height the eaves of your outbuilding can be;


Balconies, raised platforms or veranda's cannot be included on the design of an outbuilding;


The use of the outbuilding must remain as part of the original house and cannot be sold or let as a separate unit. Please note that these regulations do not apply if your property is listed or you live within a Conservation Area. Also, prior to starting work you should check with the Local Planning Authority to see if your permitted development rights have been removed. You can check if you'll need planning permission here on the Planning Portal
For more information about how biT can help your building project please call us on 01952 380 039 or e-mail planning@bit-group.co.uk