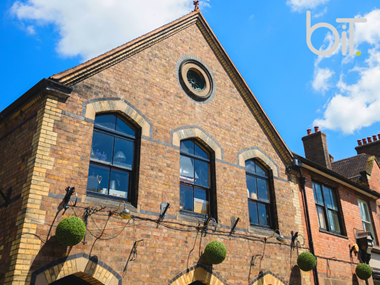 Repointing Your Building or Wall
Are you considering repointing your stone or brick building or wall? Repointing brickwork for any building or wall, provides a defence against water ingress as well as having a vital role for structure. Repointing that is unsuitable can affect not only the appearance but the structural support of the masonry. This guidance is to support homeowners and raise key issues and stages that is needed to be taken into consideration when repointing a building or stone walls.
First of all you need to consider whether it is necessary or not. Most often only localised repairs are necessary rather than full elevations usually these are areas of wear which tend to be on exposed areas which are prone to weathering such as chimney stacks and the lower courses of a building or wall that tend to front directly onto a highway.
Areas in need of attention should be by a condition survey or by an appropriate architect/contractor.
Historic mortar most often tends to be lime based, where it allows the structure to breathe and doesn't cause damage to the brick or stone which cement mortar tends to. Lime mortar tends to come in a variety of strengths and mixes, where considering the appropriate strength is important. A hard blue engineering brick for instance would take to a stronger mix than that of a limestone. Normally, careful analysis of the existing historic pointing (which can sometimes lie under later harder cement) can be made in order to determine the appropriate mix, especially the appropriate texture and colour which is often down to the amount and type of sand that is added to the mix.
Traditionally sand would come from local sources. The proposed finishes of pointing can vary from recessed to flush finishes, where further advice should be sought from a Built Heritage specialist as to what finish would be appropriate for a particular building. Modern struck or strap pointing should be avoided.
The critical stage is the removal of existing pointing. This should only be done if the existing pointing is either missing or failing, where it should be carefully removed by the use of manual tools such as a hammer and chisel. Mechanical tools should be avoided, where the use of machines such as angle grinders and disc cutters can cause significant irreversible damage to existing brick or stone, especially to arises of brickwork that often results in unsightly wide gaps.
Often, repointing is a condition via a planning permission or Listed Building Consent approval. This often involves doing discrete test areas on a building or wall, or by constructing a plinth for approval by the Built Heritage specialist.
Further guidance from Historic England: Repointing Brick & Stone Walls - Historic England. Please visit the Society for the Protection of Ancient Buildings (SPAB): Repointing Advice & Guidance - SPAB. 
For further information and guidance, please don't hesitate to contact our Built Heritage specialists on 01952 380 039 or via email builtheritage@bit-group.co.uk