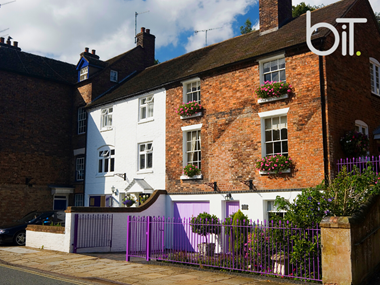 Replacing Your Windows & Doors
Do you live or work within a Conservation Area or own a listed building and are considering replacing your windows or doors? Then there's a high possibility you will require Listed Building Consent. biT's team of Built Heritage experts can help you through the process.
Normally replacing your doors and windows is considered to be permitted development, however you will require planning permission if you live within the Severn Gorge Conservation Area, as it is covered by an Article 4 direction which takes certain permitted development rights away.
Replacement doors and windows for a listed building requires Listed Building Consent.
When making improvements to existing historic doors and windows, it is important to know that they should be repaired before replacement is considered. Any replacement units should be constructed in timber with a painted finish (off-white finishes for windows and dark finishes for doors). Some later doors and windows (such as post 1960 units that tended to utilise poorer quality timber) may be replaced with more sympathetic units, especially if there is evidence such as historic photographs showing these historic units in situ.
Many building owners wish to improve the thermal efficiency of their doors and windows which is often achieved by regular maintenance. Low cost interventions such as thick curtains and fitting secondary glazing are often effective.
Modern gas filled double glazing units may be considered for existing timber units as long as the units do not contain any existing historic hand blown glass. Such units should be as thin as possible (often known as slimline units) and are manufactured by different glass manufacturers with coloured spacer units.
Further information on historic doors and windows can also be found on the Historic England website: Windows & Doors - Historic England
Alternatively, visit Windows & Doors Guidance to view our latest window and door guidance.
For further information or to find out if you require consent to complete your works, contact us on 01952 380 039 or by emailing builtheritage@bit-group.co.uk