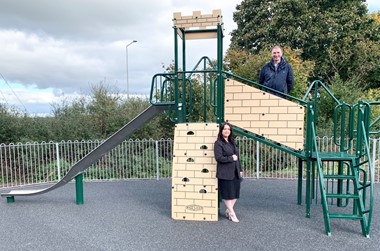 'Playing' our part in a newly installed children's play facility in Apley
Profile:
A brand new play facility for children of all ages has been installed at the new residential development in Apley.
Key Data:
Start date: 13th July 2020 Completion date: 5th October 2020
Partners:
Hadley & Leegomery Parish Council Kier Homes
Key Facts:
With the delivery of safe and healthy play areas a priority in Telford, biT's Healthy Spaces Design Specialist Derek Owen, has worked tirelessly alongside Hadley and Leegomery Parish Council to complete a project to develop and install a modern play area with secured Section 106 funding provided by the residential developer Kier Homes.
Designed with future generations in mind, the newly installed play equipment and facilities were chosen by the Parish Council from a variety of different design options, the final design chosen has reflected the historic nature of the former Apley Castle incorporating a historical feature onsite by constructing a castellated castle-themed Multi Play unit. Keir Homes carried out works to the site to create access routes in order for residents to easily and safely access the new facility.      
The newly developed play facility on Peregrine Way in Apley is here to 'play' a part for the local residents encouraging them to lead a more active and healthier life style. The facility brings together children of all ages to play in safe environment, adapting new ways in playing together whilst letting their imaginations run wild.
What Our Stakeholders Say:
Councillor Eileen Callear, Telford & Wrekin Council's Cabinet Member for Leisure, Libraries and Culture said: "We are delighted to have worked with Hadley & Leegomery Parish Council to complete these new facilities in Apley. It is a joy to see everyone together and enjoying what the Councils have provided for the local community."
What Our Team Thinks:
Healthy Spaces Design Specialist Derek Owen said "To reflect the historic nature of the site we looked to create a traditional play area with a twist. We looked to provide a design in which the local community could identify as being specific and related to the local area of Apley Castle, so we looked to theme the play area with a castle element. Our design brief also needed to be minimal maintenance, so we looked to include equipment and features which reduced ongoing maintenance issues."