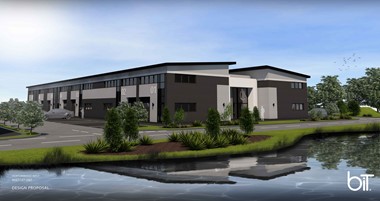 Unit 9, Hortonwood West
Profile:
The Hortonwood estate is one of the key locations for the majority of jobs in Telford and is an important employment area which has scope for expansion.  The estate is strategically placed alongside the A442 Queensway; a main road through the Borough of Telford & Wrekin, providing excellent transport links for companies and their employers. In conjunction with Homes England, Telford & Wrekin Council have recently expanded the estate by developing the Hortonwood West Employment Park.
Key Data:
Project start date June 2016 Completion date September 2017
Partners:
Key Facts:
Rosewood Pet Products Ltd approached the Council's Estates and Investment Team who engaged biT to provide early cost advice on the feasibility of Rosewood's specific requirements for the new factory and offices.  
Our in-house integrated team provided project management and cost consultant services for the project, taking the scheme from feasibility, through the planning process, tendering phase and managing the build on site. Our highly skilled project manager was able to deliver this high quality project on cost and to programme, providing certainty of delivery and effective risk management, whilst also taking into account design fees, planning and building regulation fees and all site surveys.
The project effectively demonstrates how we work closely with our clients to provide bespoke solutions to meet their requirements whilst satisfying their business and property drivers.  
Businesses considering investment now have the opportunity to rent space as well as buy sites and we have worked closely with a number of businesses looking to locate on Hortonwood West.  We have provided design feasibility, viability advice and cost planning.
What Our Stakeholders Say:
Rosewood co-owner and Marketing Director, Bev Panter said: "This is a huge step change for our business and underpins our business and our long term strategic growth plans.  Being able to utilise modern warehouse technology will significantly improve efficiency for our customer despatches and our storage capabilities will mean we can continue to grow without putting the business under undue stress"
What Our Team Thinks: