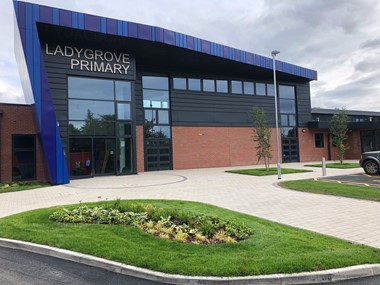 Ladygrove Primary School, Telford
Profile:
Ladygrove Primary School in Old Office Road, Dawley required new facilities needed to cater for the new homes being built in the school's catchment area to enhance the school's function and enable the increased number of pupils to learn and play in a safe and open environment.
Key Data:
Start date:  July 2018 Completion date:  July 2019 Project value: £3.2M
Partners:
Telford & Wrekin Council Ladygrove Primary School Morris Property
Key Facts:
We were engaged to design and project manage the extension of a single storey block of five additional class rooms, an additional hall, a nursery and office accommodation.  This allowed the school to expand to become a two form entry.  The extension replaced the demountable classrooms and an area of unused grassland.
The work also included the extending and remodelling of the existing kitchen with a new, much larger one and a soft play area to the rear of the nursery.  It also included new car parking and paved areas together with newly landscaped grounds incorporating the school's on-site 'Forest' area.
The extension increased the pupil total by 150 and created up to 13 new full-time employment opportunities.
What Our Stakeholders Say:
"Speaking on behalf of everyone at the school, we are so pleased with the new extension.  This exciting move forward increases our roll to 420 pupils" Jo Weichlbauer, Headteacher Cllr Shirley Reynolds said "Telford is the fastest growth point in the West Midlands, which is great for businesses and jobs. We are constantly working to ensure that we met these demands, we consider changes in population and provide excellent educational facilities for new families. The demand for more school places in this area is all part of that and this project to significantly enhance and extend the facilities at Ladygrove Primary will mean the school will have facilities for an extra 150 pupils, which is great for the school and the area"
What Our Team Thinks: