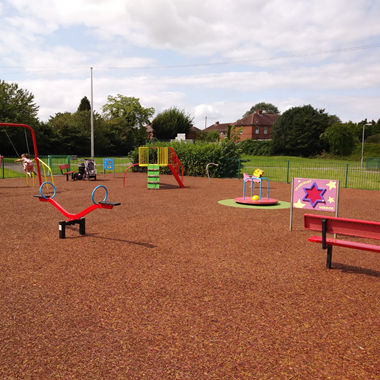 Grooms Alley Play Area
Profile:
Resurfacing of existing play area.
Key Data:
Start date: July 2019 Completion date: July 2019
Partners:
This work was carried out for Telford & Wrekin Council as part of a major contract to resurface a number of council play areas, fully funded through the Section 106 agreement. Ward Cllr involved Cllr Graham Cook.
Key Facts:
Resolving a safety issue / potential trip hazard to users of the play area which was caused by the shrinking / lifting of individual safer surfacing pads around the play equipment.
The shrinking of wetpour safer surfaces has become increasingly common due to material changes in the product. Wetpour is costly to repair and usually carried out by filling the gaps caused by the shrinkage, however this is only a temporary solution as the pad is continually shrinking so the issue occurs again shortly after.
This was resolved by resurfacing the whole of the area and not just around the equipment, meaning that any future shrinkage would be at the edge of the play area and not a trip hazard.
In addition to this, a rubber mulch was used instead of wetpour which would ease ongoing maintenance costs. This work was required to be completed prior to the school summer holidays.
What Our Stakeholders Say:
"I can't tell you how lovely it was to visit the newly surfaced play area where it was so full of happy children and now looks like a brand new facility. Congratulations and thanks to everyone involved."
What Our Team Thinks:
"The completed project has not only resolved the safety issue but completely transformed a tired looking facility into a facility the community want to use without having to put any new equipment in."