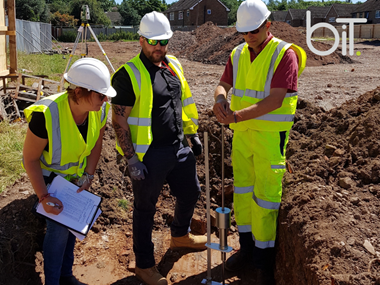 Dynamic Cone Penetrometer
biT's Highways site engineers are in the area using our new Dynamic Cone Penetrometer so if you are looking to develop a site Or create a new road? We may be able to save you money by reducing your highway construction thicknesses.
Our Dynamic Cone Penetrometer had its first use in the community, being commissioned by Manton Building Contractors to ascertain the condition of the soil so the highway construction design can be established for the proposed new access roads into the new Wrekin Housing Trust development at Brook Road, Madeley. As a result of the testing this allowed the contractor to omit a capping layer within the initial design which provided an overall cost saving to the client. They have now requested our services for more testing on other sites in the borough.
What is a Dynamic Cone Penetration Test?
The Dynamic Cone Penetration Test provides a measure of a material's in-situ resistance to penetration. The test is performed by driving a metal cone into the ground by repeatedly striking it with an 8kg weight dropped from a distance of 575mm. The penetration of the cone is measured after each blow and is recorded to provide a continuous measure of shearing resistance up to 2 metres below the ground surface. Tests results can be correlated to California Bearing Ratios.
What do the results show?
The road construction is made up of a capping and subbase layer which is then either surfaced in Tarmac or block paving. The California Bearing Ratio (CBR) changes depending on the softness or hardness of the material. Different road construction layers require different CBR values due to the structural function they perform in the highway pavement. The ground at formation level is tested, the CBR value obtained determines whether a capping layer is required and, if so, the thickness of the layer needed to meet the design requirements. Subbase is then laid on top of the capping layer and again has to meet the design requirements usually needing to achieve a CBR value of over 30% before it is considered to be acceptable for surfacing.
Why use a Dynamic Cone Penetrometer?
Comprehensive testing of the formation layer enables the results to be interpreted to assist in ensuring the best value design is achieved by gaining an efficient carriageway design. This could result in a cost saving for the contractor in some cases by reducing the overall carriageway formation thickness.
For more information about how biT can help, please call us on 01952 380 039 or via e-mail at highways@bit-group.co.uk