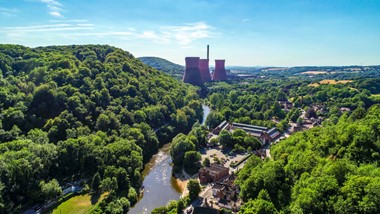 Ironbridge Cooling Towers
Profile:
For 50 years the cooling towers at Ironbridge Power Station have been a much-loved feature of the Ironbridge Gorge.  The power station ceased electricity generation in 2015 and subsequently the site was purchased for redevelopment.  As part of the redevelopment plans approval to demolish the power station buildings was given and the towers needed to be brought down.
Key Data:
Date: 6 December 2019  11.00 am  Preflight checks:  Our qualified and fully insured drone pilots carried out pre-flight location and site checks before the big day.  The variable that could not be pre-planned was the perfect weather conditions at the time of the demolition.
Partners:
Telford & Wrekin Council Telford Ultimate Guide
Key Facts:
We recognised that the demolition of the cooling towers was of great interest not only to the residents of the Borough of Telford & Wrekin but a much wider audience too.
We approached Telford & Wrekin Council's Corporate Communications team and offered to live stream our drone footage of the demolition on the Council's Facebook page.  They agreed it was in the public interest not only to record the moment for history but also to allow as many people as possible to watch the demolition in the safety of their own home or workplace.
The live stream was a sensational success - 48,000 people watched live as the 4 towers fell to the ground and it has since been viewed by more than 77,000 times. BBC Midland news reported on the day and shared the footage with their viewers and Steve Bowers of Telford the Ultimate Guide has used the footage in his 90 minute documentary charting the story of the Ironbridge Power Station.
What Our Stakeholders Say:
Film maker Steve said "The biT team were prompt to respond to my request and efficiently dealt with my requirements.  The footage I requested for my Ironbridge Power Station documentary was exceptional quality and is now an integral part of my finished film"
What Our Team Thinks: